Grace After Meals
Father of mercy, we praise you and give you glory
for the wonderful gifts you have given us: for life and health, for faith and love, and for this meal we have shared together.
Father, we thank you through Christ our Lord.
Amen.
Index of catholic prayers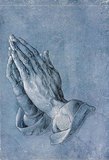 Write a prayer
Help us now: support us by donating ONLY 2 euros!
We will be grateful to you.